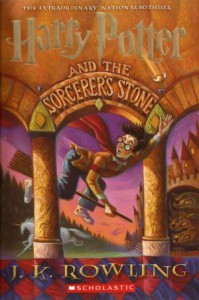 NOW WHERE IS MY LETTER FOR HOGWARTS?! I WANT IT!!!
After two years of ESL my english teacher decided to assign me a book to read, and every day for a couple of hours she would stay with me and I'd have to read, circle all the words I didn't know and so much more... the book assigned was
Harry Potter and the Sorcerer's Stone.
After reading that book I started hating Harry Potter so much that I didn't want to see another book of his...
after a couple of months the first movie was out and the school brought us to movie theater to watch it and I actually fell in love with the movie! So I've watched almost all the movies and then at a certain point I stopped and I promised myself that I wouldn't watch the last three movies, not until I would have read the series...

Well after 14 years I've finally had
the courage to start this Saga
and I'm so ashamed that I've waited so long... This book is adorable, perfect, I loved it!!! And I've already started the second one!!! Have to make up for all the years I've lost! D: But I've chosen to read it in my language, italian ;)... It's funny how a bad memory can influence you.
Stupid Me!!! I almost risked never reading this wonderful saga...
... ... ... HARRY POTTER < 3 <3 <3 ... ... ...<br/>
Even though I knew exactly what was going to happen and who the bad guy was, I was still surprised! Rowling has a way of capturing you completely! She has bewitched me completely!!!!!!
Me after reading Harry Potter!
-----
Dopo quattordici anni sono finalmente riuscita a trovare il "coraggio" per iniziare questa saga. Eh si, coraggio. Dopo il trauma subito da piccola avevo paura di riprendere questo testo. Ogni volta che pensavo alla saga di Harry Potter mi rivedevo piccola, seduta accanto alla mia professoressa d'inglese che mi invitava a leggere e cerchiare tutte le parole che non comprendevo (che erano tantissime, considerando che ero appena uscita da ESL - classe per alunni stranieri nelle scuole americane - da pochissimo). E quindi successivamente non ho mai più voluto saperne di HARRY POTTER! Dannazione!!!! ... quanto mi pento di non aver trovato il coraggio prima... per fortuna Harry Potter è in grado di stupire non solo i bambini!!!
Dopo un paio di mesi dalla lettura del testo la scuola ci portò a vedere il nuovo film di Harry Potter al cinema, ma che dire... il film mi rapì completamente. Non vi era nessuno che mi osservava, solo io ed Harry. Ed iniziai a vedere anche i film successivi. Ma poi dopo il quarto mi imposi di fermarmi.
Dovevo leggere la Saga di Harry Potter!
... beh dopo tanti anni eccomi qui!!!
Harry forgive me!!! But I'm all yours now... ready to fly to Hogwarts with you!
Questo libro è dolcissimo!!! Harry, Ron, Hermione... ohhh can't wait to see how the love between the two grows!!! <3 <3 <3<br/>
<3 Una vera e propria fiaba </b>che non stanca mai, che ti tiene incollata alle pagine! Un testo davvero unico, con protagonisti straordinari... e sto solo all'inizio! Non vedo l'ora di continuare... beh in realtà già sto leggendo il secondo!




Misteri, magia, amici, nemici, incanti, scope volanti, pozioni, intrighi, lotte,, tanti ingredienti squisiti che non possono non suscitare una forte emozione. Amore.

STUPENDO!!!
I need more!!!!